This may have been the most fun ever doing a presentation.
For the 20th Technology, Colleges, Community conference, which had been strictly an online conference, portions of it were held in person in Honolulu.
My idea for my opening keynote was to revisit the web of 1996, the first year TCC happened as a totally online conference, to speculate how, if any, the web 20 years later has progressed:
In 1996, the first year of TCC, the web stumbled from an internet oddity into mainstream popularity. Now, a scant 20 years later, most students entering higher education have never lived in a world without the web; to them it is not even a technology.

The clues to projecting what a future web might be can be found in the present; there are already ways of using it beyond links and pages. By looking at current ideas and examples, by addressing the issues of assertion of our digital selves, web making, the Indie web movement, and a federated wiki, we can confidently glean a glimpse of what the web could be in another 20 years.
I got this idea to borrow steal the idea of Bret Victor's brilliant 2013 The Future of Programming talk where he pretended to be talking about the present from the year 1973.
Thanks to the Internet archive I was able to do some web paleontology find all of the archives from the 1996 conference including the papers, the keynotes done via links and email, even the logs from the MOO sessions (not MOOC, MOO!). Conference founder Jimmy Shimabukuro blogged his notes, old emails, and thoughts on the conference too.
The presentation was done in old school HTML, using a format I had been using myself in that time period to do web-based presentations.
You can find the presentation I used at http://cogdogblog.com/stuff/tcc15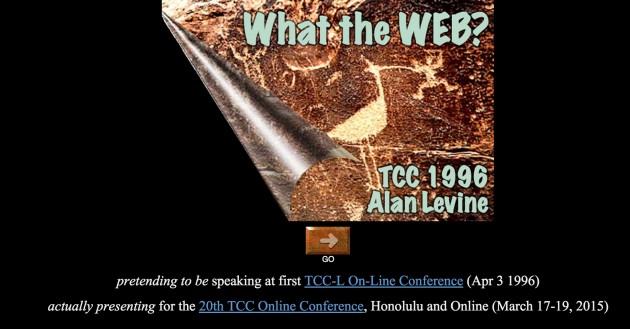 There is as well a video archive
And more notes, nostalgia, behind the scenes stuff from my blog post Time Traveling to 1996 for the TCC Conference.